---
Cloud Services
---
Security, Optimization, & Peace of Mind
---
Living and working in the cloud presents unique challenges to your security and network architecture. We can help your team safely leverage the opportunities that the cloud provides.
---
Our Team is Here to Secure, Monitor, & Protect Your Cloud Applications
Whether you need help migrating your workflow to the cloud, or you need an experienced partner to ensure your cloud applications and accessing devices are secure, we are ready to help.
Cloud


Security
From the initial configuration of your cloud SIEM to the implementation of cloud firewalls and endpoint security.
---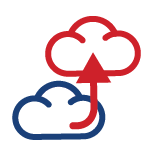 Cloud Migration


Solutions
We provide smooth, predictable, and drama-free migration from on-premise software to the cloud environment.
---
Monitoring &


Analytics
Our team acts as your digital watchdog, diligently monitoring traffic logs and network statistics as we look for threats.
Cybercrime is on the Rise
---
Cybercrime is expected to cost the global economy more than $6 Trillion by 2021. Being prepared is a requirement in today's digital environment.
---
Genuine Cloud

Experts
Our team adopted cloud best-practices early. We recognized early on that the move to cloud would do more than ensure users were able to access their work from anywhere- the transition to cloud is changing industries and creating opportunities.
We can help you seize these opportunities, and enjoy the benefits that working in the cloud offers while being protected from bad actors, cybercriminals, and malicious software.
---
The Cloud

Made for You
Our approach to tailored solutions means that there is no such thing as a one-size-fits-all solution. Expect us to:
Look for ways to minimize friction when moving existing workflow to the cloud solutions
Recommend software and SaaS options that will be cost effective while meeting your needs
Keep everything safe, secure, and locked down