---
SECURITY COMPLIANCE
---
SUPPORTING NIST CYBERSECURITY FRAMEWORK & PCI COMPLIANCE
---
Modern security standards are ever-evolving and more important than ever. Our team of cybersecurity engineers and information technology experts will help your organization achieve and maintain NIST CSF or PCI compliance.
---
Taking a Top-Down Approach to Compliance
Meeting base-level security requirements is required to meet specific standards, but there's much more to security than just being compliant. Our team works with you to achieve compliance and secure your data.
Genuine


Security
Compliance is good, but active security monitoring is better. We ensure that you enjoy both.
---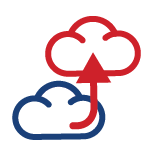 Step by Step


Support
We'll evaluate your compliance status, outline our recommendations and next steps, and then actively monitor compliance requirements.
---
Reporting &


Analysis
From supporting audits and checking support validity to managing/configuring your SEIM environment, we provide transparency and visibility into your compliance status.
Don't Drown in the Alphabet Soup
---
Between GDPR, NIST CSF, PCI DDS, and others, there are a lot of elements to consider. Leverage our team of experienced professionals and let us make sense of the acronyms.
---
Convert Compliance Checks Into

Compliance Visibility
Finding out that you were breached days, weeks, or months later is not only unhelpful, but also terrifying. Stopping at compliance is only part of the battle – staying secure and remaining vigiliant is critical.
Our toolsets provide total visibility into your compliance status, with reports and insights that save time and budget.
---
Staying Ahead of

the Changing World
Our team is ready to help you achieve NIST CSF or PCI compliance, but it doesn't end there. We regularly build custom monitoring and reporting solutions based on any number of requirements.
While we are adept with GDPR, NIST CSF, and PCI DDS, we are capable of helping your organization achieve whatever level of security readiness required for the acronym that matters to you.